WHY DO PEOPLE CHOOSE FOCARE?
✔ FEET RELATED PAIN RELIEF
FOCARE foot insoles are designed to effectively offer flat foot arch support and prevent different kinds of feet-related pain (foot, ankle, leg, hip, pelvic, back, and lower back pain).
✔ MORE ENERGY
FOCARE insoles for women and men absorb shock, provide extra cushioning and reduce feet stress to improve endurance during high impact sports.
✔ BETTER POSTURE
  shoe inserts help you to realign your whole body, evenly distribute your weight, reduce foot pressure and muscle fatigue. This gives you the ability to easily withstand 8-14 hours of working on concrete floors.
✔ GREATER MOBILITY
FOCARE sole insoles for men provide your feet with all-day comfort, reduce friction, prevent corns and neutralize odor, so you can enjoy walking and hiking for longer.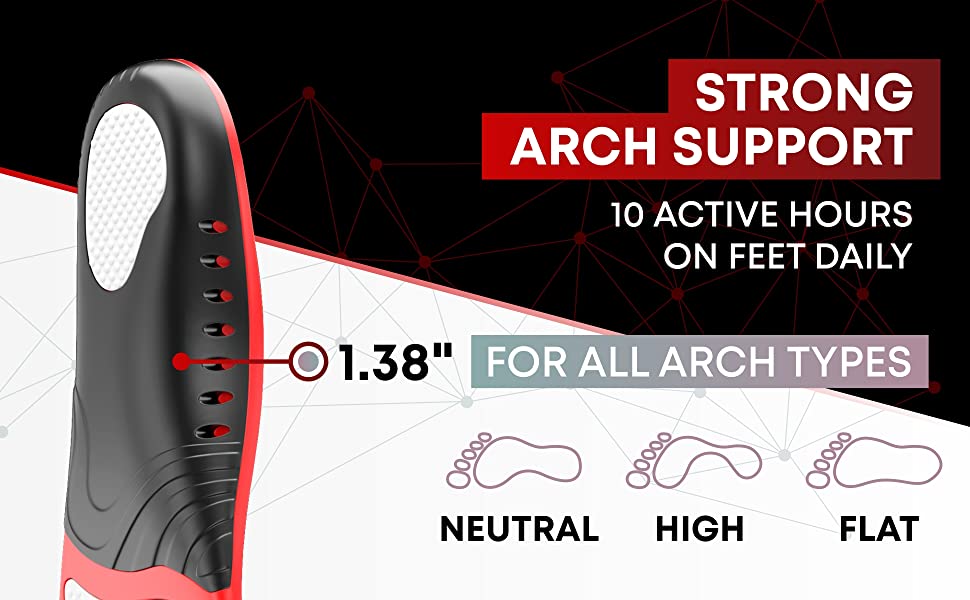 WHAT YOU GET
Planters fasciitis support | Corrected posture | Longer walks, running or workouts | Muscle fatigue relief | Joints relaxation | Spinal stress relief
Long periods of standing | Absence of smell | Strong and stable arch support | Well-fixed heel | Nice silky-touch velvety top cover | Extra cushioning in forefoot, metatarsal and heel region
MOST EFFICIENT FOR
Plantar fasciitis | Heel spurs | Metatarsalgia | Shin splints | Bunions | Morton's neuroma | Flat feet | Pronation
Back – Ankle – Knee – Neck – Lower back – Joint – Posture pain relief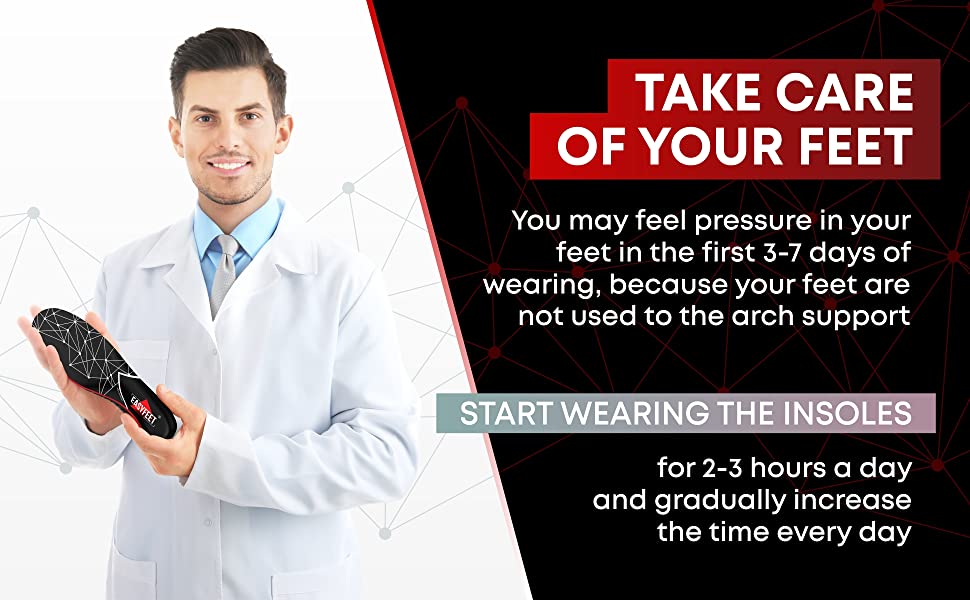 PUT FOCARE INTO MOST OF YOUR FOOTWEAR TO BE SURE YOU WEAR PRO ARCH SUPPORT DURING 80% OF YOUR ACTIVE DAY
Unique combination of hard arch support with u-cup heel and extremely soft cushioning pads for a posture pain relief and joints relaxation.
✔ New generation TPU
✔ Soft and medium hardness PU
✔ No-smell breathable velvet
HOW TO USE
✔ Cut along the outline that matches your original insole or use the size table as a guide
✔ Replace the existing shoe insoles with FOCARE with the hard TPU side facing down
✔ We put a special YELLOW STICKER on each package for our clients to be sure the condition of the delivered product is New